- I love mine, great gun, I have never had any trouble with it. You can't beat the price. Good luck

- No reason to have regrets. The price was right and the gun excellent for the low price.

...The gun has never jammed on any magnum or high brass loads since the day I got it. I had the gun out goose hunting in an ice covered frozen cornfield a couple times.gun cycles outstanding in single digit temperatures.... I did get this gun on the pattern board and I couldn't be more pleased. It patterns lead, Non Tox and Steel every well from everything from 2-3/4 1-1/8oz target-loads to the biggest 3-1/2 magnum candlesticks. All chokes patterned well and the extra full is going to be an outstanding for Spring Turkey. It really patterns the Remington Heavy Shot well. This gun out of the box shoots where you aim it and I like that! My friend has an all black synthetic Benelli SBE and he likes this Baikal MP-153. He can't get over the bang for the buck with this shotgun. Most of the guys can't believe this gun for the money in our sportsman club. An excellent automatic shot gun for the budget minded hunter.
JDS, Evans City, PA.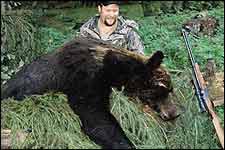 When in Russia, do as they Russians do: The author, though admittedly uncomfortable with caliber choice, shot this large Eurasian brown bear at 40 yards with a .30-06 Express Double Rifle. It's one of many Baikal long guns currently imported. Read more>>

I've owned a Synthetic Baikal MP-153 for over 2 months now. Don't be fooled by it's price, this gun is a shooter. It's been on the trap line as well goose hunting in Western Pa. Forget this shotgun if you like an easy to carry all day moving/carrying shotgun.

THE GUN IS A HEAVY RUSSIAN TANK FOR A 12 GAUGE. Perfect for Waterfowl/Turkey /Magnum loads. It is also fine for recreational target/trap shooting. It would also be outstanding for the type of Dove hunting we do in PA. I've run over 1000 rounds of 1-1/8-trap loads through this gun so far with only one malfunction. There were no jams but the bolt didn't stay open after a last round once.

- I have the sporting edition onthe izh-27... i think the only regret i have is not buying it before, hehehehe... great gun. use it for skeet, zzbirds and hunting... a little heavy but great great gun... someone asked me "is it a browning"